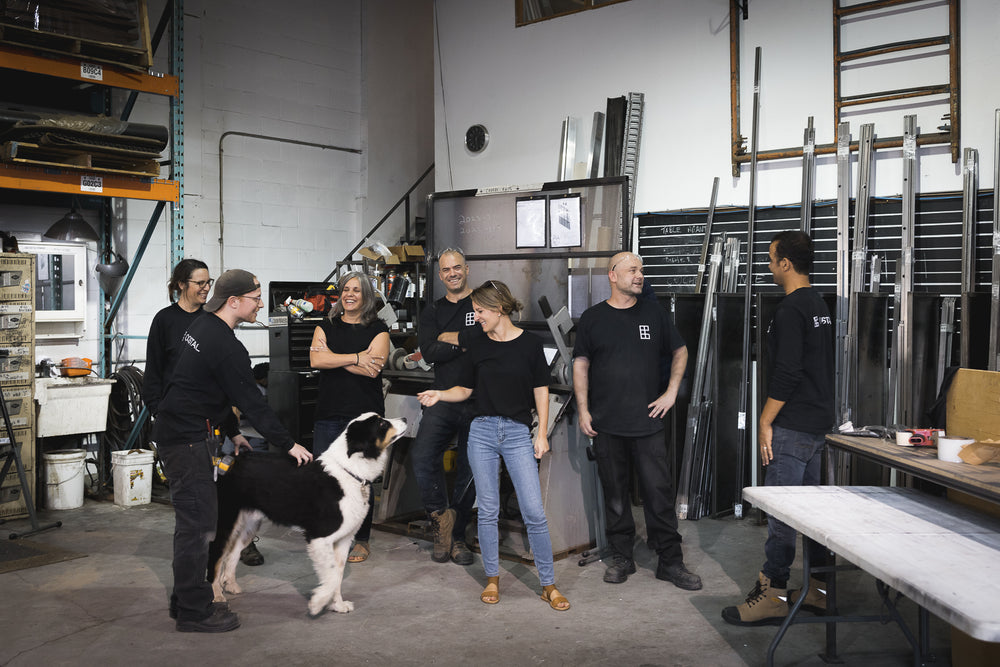 If you are like us and always curious to know the history behind local businesses, here is a text written by the talented columnist Valérie Lesage.
_________________________________________________________________
There are encounters that spark and change the course of a life. When Laurie Pinard crossed paths with Mathieu Girard, the flow flowed so well between the two that from a design project together, they moved on to a life as a couple and a life as partners, founding Projet Acier Montréal . Today they are even the happy parents of two young children, their ultimate creation!
She is a designer, he is a welder-contractor. She had been looking for a long time for a metal craftsman capable of bringing to life the glass cellar she dreamed of for a restaurateur client. Mathieu mainly designed stairs and railings, but because the meeting inspired him and because he is always ready to take on a challenge, he said yes to Laurie.
At the beginning, they created tailor-made interiors together, according to the wishes of their clients; a little bit of everything and enough to make a name for yourself among architects. But the glass roofs particularly appealed to Laurie. This is ultimately the niche that Projet Acier Montréal decided to occupy. To achieve this, we had to learn to refuse projects outside the chosen avenue, and thus allow ourselves to explore the field of possibilities with glass roofs, then become experts.
"Our complementarity means that we constantly push our personal limits, in a good way. We have fun constantly surpassing ourselves, in every way," observes Laurie on the strength of their duo.
From one achievement to another, the duo has developed a distinctive offer, its flagship product, the COSTAL architectural divisions, awarded at the Grands Prix du Design in 2021, 2023 and a profile now registered with the intellectual property office of Canada, as an industrial design. In fact, these walls of glass and steel reflect the complementarity of the couple, because they combine opposing forces: transparency and opacity, fragility and solidity, classicism and modernity, minimalism. and ingenuity. Refinement, for its part, envelops the whole.
Everything is custom designed to fit each environment, with several variations, but a similar basis. Pure lines emerge, an impression of lightness.
The rigor of the work executed with precision, combined with the beauty of these walls which define the spaces without closing the horizons, creates magic among clients.
"It's fascinating to see such a perfect marriage, whether in a classic style house or in a very contemporary decor. The product is versatile," notes Mathieu.
Happy customers are part of what makes the work of the entrepreneurial duo so enjoyable. The other ingredient of their happiness finds its roots in their team.
"We have a heart for the work and a passion for the company. Having people around us who believe as much as we do in the product we make is worth gold," rejoices Laurie.
His creative side is now focused on the configuration and design of Projet Acier Montréal's new workshop and showroom, in a recently acquired building in Saint-Hubert. Customers will be able to enter this space in winter 2023-2024, which will be inspired by New York lofts and where other local artisans will also be represented. Because creators inspire each other and beauty is created to be shared.
Laurie and Mathieu still have a thousand ideas in mind to continue to develop their creation, while keeping the glass roofs as a centerpiece. Innovating is in their DNA and working with architects continues to fuel their inspiration.
- Valérie Lesage